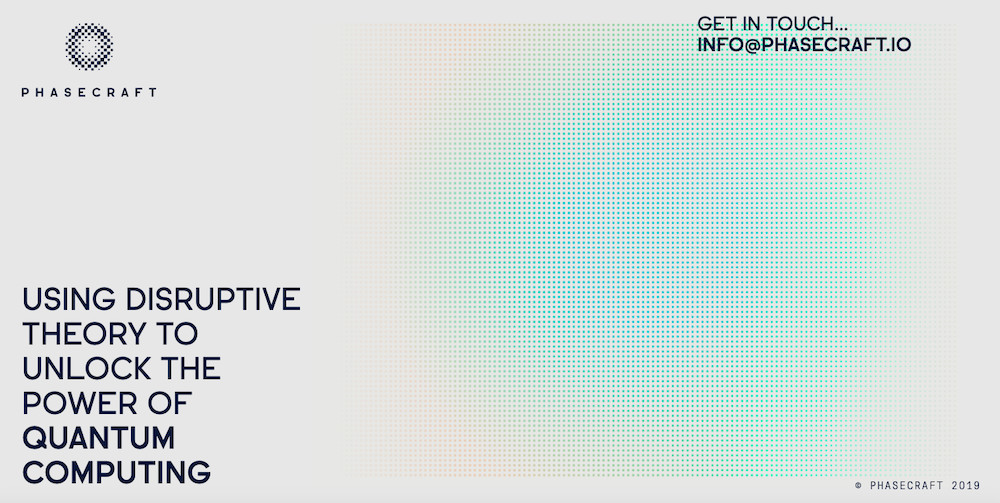 Phasecraft
, co-founded by academics at
UCL
and the
University of Bristol
, is developing software for quantum computers using some of the best talent in the sector, and aims to solve problems beyond the capacity of today's best classical computers. The company is building an understanding of the capabilities of current and near-term quantum computers, and how it can be channelled into useful applications.
The Phasecraft team includes some of the world's best minds in quantum computing, with a collective fifty years of experience working in the field. The team are moving beyond writing academic papers, to using their theories to bring the technology of the future into today.
Quantum computers are on the cusp of becoming a practical reality, and could ultimately solve challenging computational problems we face today, such as investigating unique quantum materials, helping to develop better batteries and more efficient solar panels, simulating chemical reactions and helping to discover new catalysts and optimise key industrial processes. However, fully realising the immense potential of quantum computing will require solving deep scientific and technical challenges.
Phasecraft sets out to do this first by designing quantum algorithms and software to solve problems beyond the capacity of today's best supercomputers. This will be followed by partnerships secured with companies to co-develop solutions to the main problems they face, and then working with leading quantum hardware developers to implement the required technology.
The pre-seed investment will enable the company to build out the initial team working on the project and prove the concept that quantum computers can be used to solve relevant and complex problems.
David Grimm, Investment Director,
UCL Technology Fund
, says: "Phasecraft is at the forefront of what is an incredibly specialised field. We believe this team has the capability to maximise the potential of quantum computing and solve previously unsolvable problems. We are excited to begin working with the team at this early stage."
Neil Cameron, Investment Director, Parkwalk, said: ""This team is internationally recognised as being leaders in the field of quantum software. The work they are doing could dramatically reduce the time horizon in which quantum computers can solve problems that are beyond the capabilities of classical computers. We are excited to support a company at the heart of the UK's Industrial Strategy."
Dr Ashley Montanaro, co-founder of Phasecraft, said: "Quantum computers have developed more quickly than we'd ever have predicted when we started working in this field. We're thrilled to be getting started on our journey to make these amazing machines truly useful, so it's fantastic to have new investors on board."
Dr Toby Cubitt, co-founder of Phasecraft, said: "For the first time in my career, there's the tantalising possibility that practical applications can be squeezed into the current generation of quantum hardware". It's a really exciting time for the field, when fundamental theoretical insights from researchers like us have the potential to very quickly be turned into the first useful applications of early quantum computers."