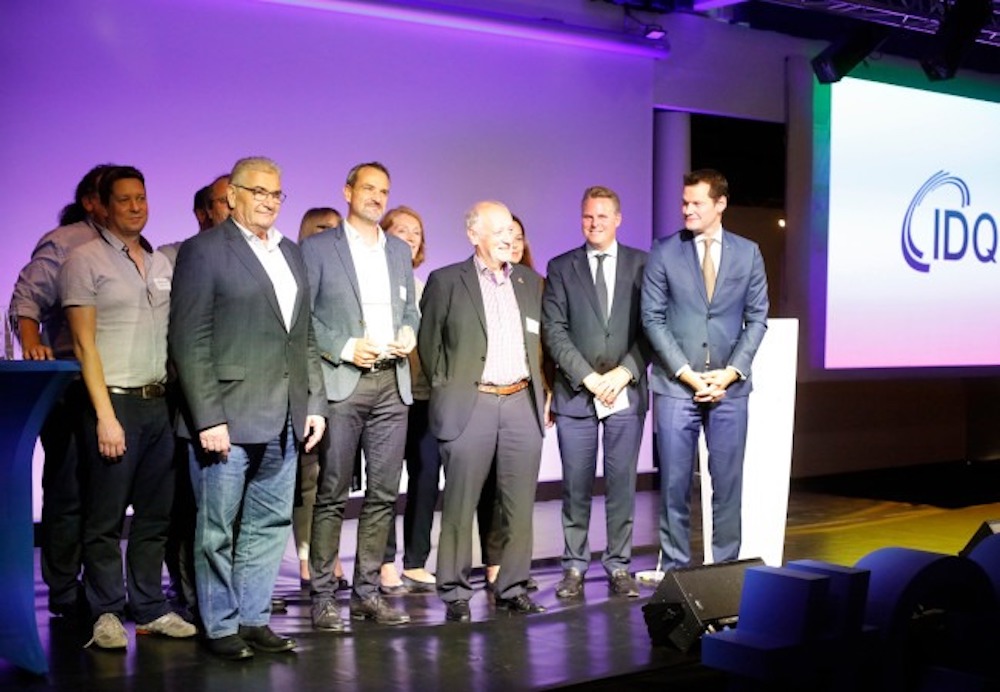 Photo ID Quantique
The prize was awarded in recognition of ID Quantique's innovative role in quantum technologies. The company was created in 2001 by four scientists from the University of Geneva who anticipated the important forthcoming impact of quantum physics on information technology.
The company initially operated as a spin-off of the Group of Applied Physics of the University of Geneva, working on research projects to demonstrate the feasibility of
Quantum Key Distribution
(or QKD, better known as quantum cryptography).
It has released several world premieres, including the first ever deployment of QKD in a live network environment, the first deployment of QKD over a multiplexed network for commercial clients, the longest-running quantum crypto installation (since 2007) and has participated to the demonstration of the longest QKD distance to date (421 kilometers).
ID Quantique awarded the Innovation Prize 2019
ID Quantique is now a global company, with more than 100+ employees, headquartered in Switzerland with sales offices, engineering and research labs located in Korea, the US and the UK. Continuous passion, a strong focus on innovation and the flexibility and experience of a dedicated team has allowed IDQ to establish itself as a leader in the fields of quantum-safe cryptography, scientific instrumentation and random number generation. Its products are used by governments, enterprises and academic customers in more than 60 countries and on every continent.
The award was created in 2012 with the aim of promoting and enhancing the Geneva economy. It also aims to honour companies whose reputation and influence convey a positive and dynamic image of Geneva.
"
We are very honoured to receive this Innovation Prize here in Geneva, where it all began for ID Quantique almost 20 years ago,
" said Dr Grégoire Ribordy IDQ's CEO and co-founder. "
Innovation is essential when the market doesn't even exist. Back in 2001 we had to be innovative and we strongly believed the future is quantum. We still have to be innovative to meet our objectives: developing and industrialising advanced quantum products and technologies for organisations to ensure long-term protection for data and public safety. I am personally very happy to share this prize with all my team from ID Quantique but also with our partners, in Switzerland and around the world.
"