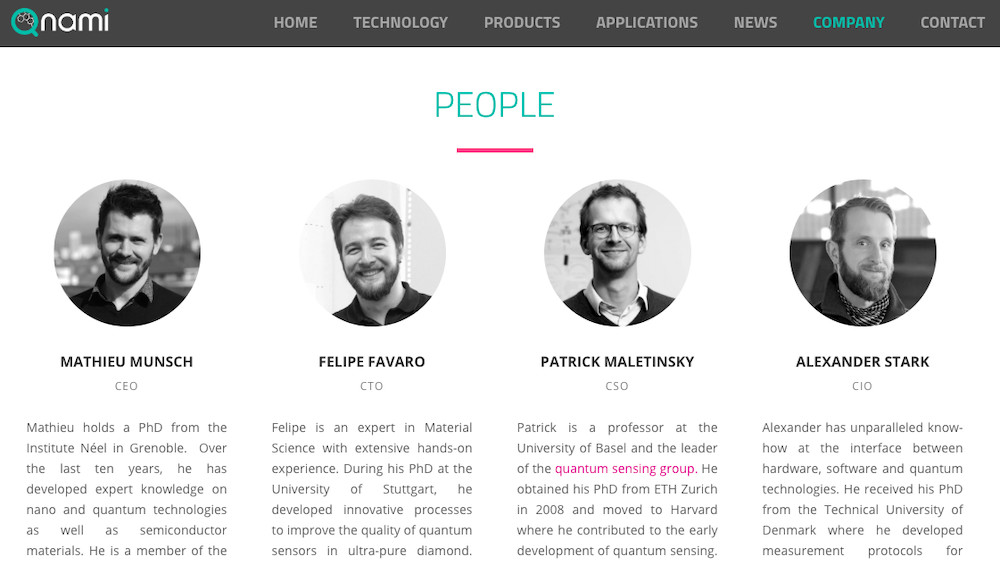 Qnami
is a Swiss start-up founded in November 2017. It has developed an innovative platform for the analysis of magnetic materials at the nanoscale, based on a proprietary quantum technology. Mathieu Munsch, cofounder and CEO of Qnami says "in modern electronics, the magnetic properties of materials play a crucial role. Yet, they are not always well understood and even less well-controlled, in particular at sub-micron scale. Our technology allows scientists and engineers to explore new ideas, to directly visualize the effect of any small change in their design or fabrication process". Our first product will help them finely focus their efforts, so that they can create, design and deliver the electronics of the future". Qnami's quantum microscope addresses a specialized market with excellent growth prospects. But as Munsch says, the vision of Qnami goes beyond this horizon. "With the Quantum Foundry we want to bring our technology, and the know-how we are developing, to other areas where classical solutions have reached their limits".
Qnami's first equity round was led by
Quantonation
, a leading VC fund specialized in Deep Tech with a strong focus on emerging quantum technologies. Olivier Tonneau, General Partner, Quantonation, and new member of the board of Qnami, says "Quantum technologies leverage the non-intuitive properties of quantum mechanics to develop disruptive applications in fields such as quantum computing, sensing, and communications. They are also called "the second quantum revolution." The most mature technologies in this field use the extraordinary sensitivity of quantum devices to measure properties with previously unattainable precision, addressing applications in areas as diverse as microscopy, MRI or navigation. Qnami is led by a very strong team, with a unique technological edge, and with a clear vision on how to become the go-to company manufacturing quantum sensors." The round was further supported by the Swiss VC investiere, the German deep-tech focused High Tech Gründerfonds, the ZKB Start-up Finance fund, as well as private Business Angels providing key industry expertise.