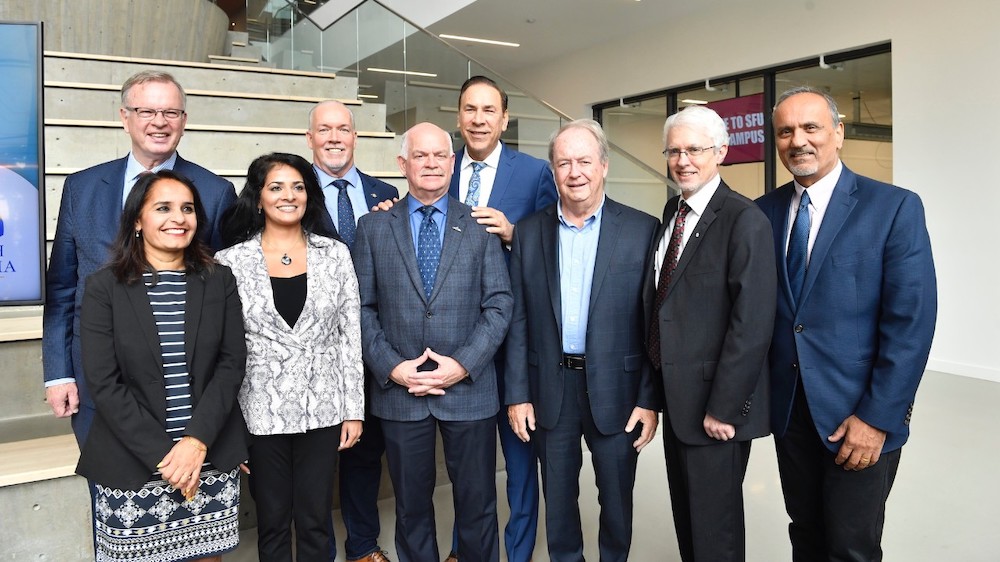 From L-R: Surrey-Green Timbers MLA Rachna Singh, Bruce Ralston, B.C. Minister of Jobs, Trade and Technology, Anita Huberman, CEO, Surrey Board of Trade, Premier John Horgan, Surrey-Guilford MLA Garry Begg, Surrey-Fleetwood MLA Jagrup Brar, Surrey Mayor Doug McCallum, SFU President Andrew Petter and Harry Bains, Minister of Labour. Photo: Greg Ehlers
The institute, one of the
first facilities of its kind
, will focus on building quantum computing software and algorithms.
The institute will help SFU collaborate with research universities throughout B.C. to position the province as a world leader in the emerging field of quantum computing technology.
It is also expected to help SFU tap B.C.'s world-class research capabilities and globally recognized companies to develop a new graduate degree program in quantum computing.
The funding announcement is part of a larger B.C. government commitment to promote the City of Surrey as a second Lower Mainland downtown. It will also help build an innovation corridor that will bolster economic growth and ramp up employment in Surrey and the Fraser Valley.
The innovation corridor is an emerging government priority and will be developed in consultation with local government, businesses, First Nations and other partners. B.C. is taking the first step in this direction by establishing the Quantum Algorithms Institute.
Making the announcement at SFU's Surrey campus, B.C. Premier John Horgan said, "
Creating an innovation corridor in Surrey and up the Fraser Valley will create good jobs, attract talent, reduce commute times and raise the standard of living
".
"
Working with our partners, we will create an innovation hub where companies and talent will cluster, supporting our goal of a strong, sustainable economy that benefits the entire province.
"
Horgan was accompanied by Bruce Ralston, minister of jobs, trade and technology, Surrey Mayor Doug McCallum, SFU President and Vice-Chancellor Andrew Petter and Anita Huberman, CEO, Surrey Board of Trade.
"
Simon Fraser University is pleased to be a partner in the new Quantum Algorithms Institute. Undergraduate students in science, tech, engineering and mathematics will have a unique opportunity to continue their education in graduate studies with a focus on quantum computing,
" says Petter.
Last year, the B.C. government invested more than $700 million to support the province's innovation ecosystem.
The institute will harmonize its goals with SFU's innovation strategy – SFU Innovates – whose mission is to engage researchers, staff and students with local communities and industry partners to solve real-world problems through innovation and entrepreneurship.
The provincial government says it expects that the participation of B.C.'s post-secondary institutions and local quantum computing companies, such as D-Wave and 1Qbit, and global technology giants—such as Microsoft and IBM—will be crucial for the newly minted institute's success.
Says Ralston, "
Quantum computer solutions will help develop the innovations of tomorrow in sectors such as transportation and logistics, medical research, advanced design and materials testing.
"