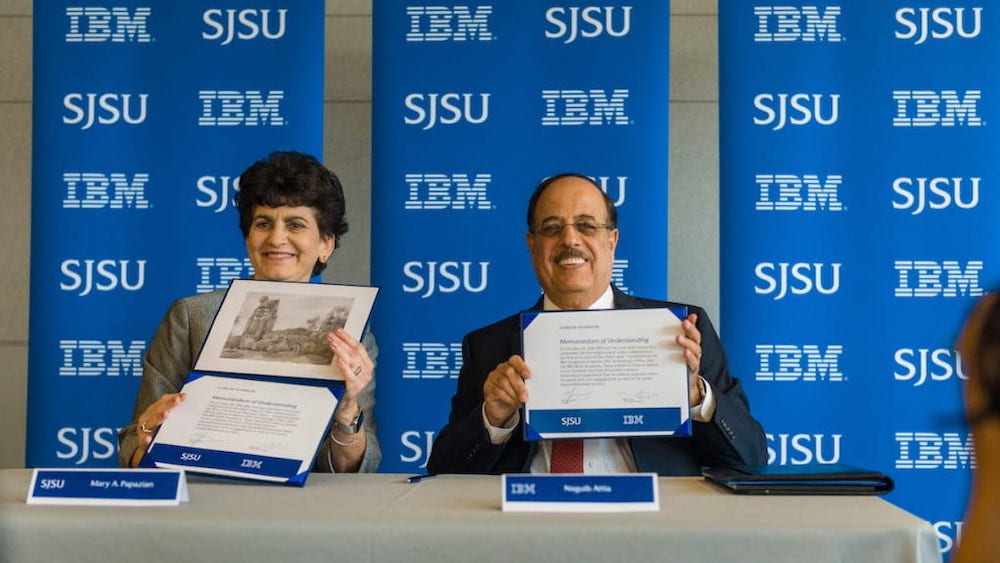 Photo by Francisco Mendoza, '21 Photography/San Jose State University
On October 18, 2019, San Jose State University and IBM announced a strategic collaboration designed to provide today's students with advanced skills needed for high tech jobs of the future.
The use of emerging technologies such as the Internet of things, cloud computing, artificial intelligence (AI), data science, security, and blockchain are growing. AI is expected to contribute $15.7T to the global economy by 2030* as the U.S. skills gap widens. Over 11.5 million workers in the United States alone may need to be retrained or reskilled as a result of AI and intelligent automation alone in the next three years.**
"It makes perfect sense for Silicon Valley's public university to collaborate with IBM, a giant in the tech world," said San Jose State University President Mary A. Papazian. "Growing our research and scholarship is a priority of ours and ties directly to our student success goals. This collaboration will help San Jose State students gain the skills they need to compete in tomorrow's workforce, and it will solidify SJSU as the top provider of talent to Silicon Valley companies."
The strategic skills-based collaboration, the first of its kind on the west coast, will feature three key components on campus: IBM Academic Initiative, SJSU Technology Office, and IBM Skills Academy.
IBM Academic Initiative. IBM will provide a unique, customized portal for SJSU students, staff, and faculty to access IBM Academic Initiatives resources for teaching and research purposes. The Academic Initiative also provides faculty and researchers with IBM's cloud technology and software in fast-growing fields such as AI, blockchain, cybersecurity, data science, high-performance computing, and quantum computing.
SJSU Technology Office. IBM will help SJSU establish a technology office to support faculty research, student growth, and campus-wide innovation through regular workshops and training. A cybersecurity training center will also be developed and located on the SJSU campus in the future.
IBM Skills Academy. This Skills Academy will offer practical curriculum, learning tools, and labs created by IBM subject experts. Courses will cover a variety of advanced skills, and SJSU's Information Technology department will evaluate pilot programs in data science, AI, data engineering and cybersecurity. IBM's new AI tools and related education initiatives are drawn from methods and technologies IBM developed in-house to drive its own workforce transformation. The IBM Skills Academy transforms how cultures and people will operate with digital technology including ethics and human bias in coding.
"Skills are the most important issue of our time and we need to fully equip students with the right skills to participate in the digital economy," said Naguib Attia, vice president, IBM Global University Programs. "Through this new collaboration, we will work closely with San Jose State University to ensure curricula aligns with industry needs and trends so both students and faculty can earn digital badges and develop the skills they need today, for the jobs of tomorrow."
The collaboration between San Jose State University and IBM takes effect immediately.
**
PwC's Global Artificial Intelligence Study: Exploiting the AI Revolution
**IBM Institute of Business Value, "
The Enterprise Guide to Closing the Skills Gap
", September 2019.