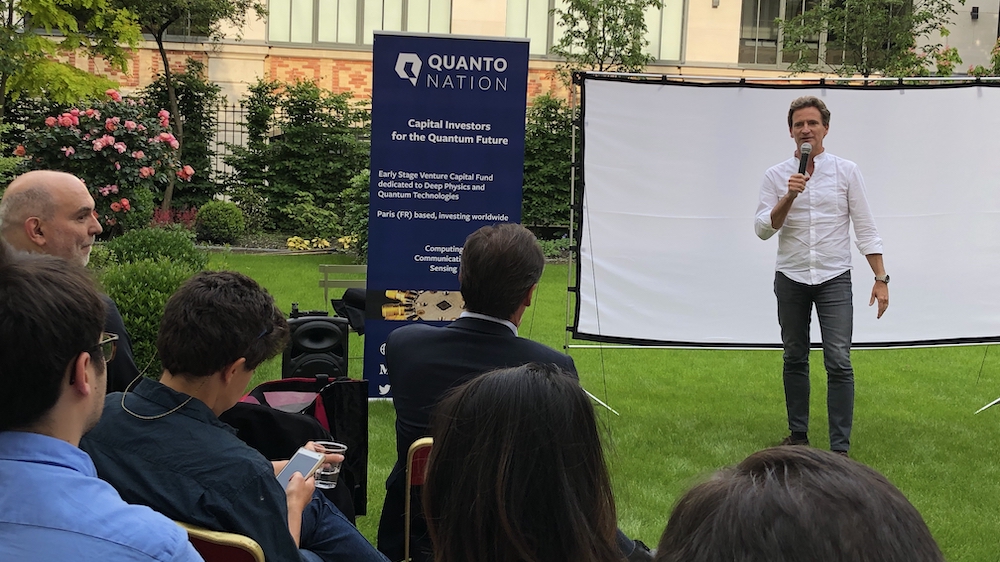 Charles Beigbeder, founder of Quantonation
In total, about 100 people confirmed their participation. It is under the gilded of its new offices, a superb
private mansion of the "directoire" era
, acquired by
Charles Beigbeder
, that
Quantonation
organized yesterday the third
meetup of the French quantum computing community
. A French community by its point of attachment, but very international by its origins. All presentations were given in English.
After a warm welcome by the master of the premises, and to the rhythm of the traditional pizzas and soft drinks of meetups, four presenters followed one another, in order to share their work with the community.
Muquans
develops operational sensors using laser cooled atoms. The company, created in 2011, employs 29 people and already generates €2.6 million in turnover (in 2018). Its ready-to-use solution is used in particular in the fields of oil and gas exploration. It participates in the European project
NEWTON-g
(new tools for field gravimetry).
Quandela
works in the field of quantum optics. Its objective is to harness the generation of pure quantum light. In a nutshell, this consists of generating photons individually and applying quantum states to them. Some applications presented by Valerian Giesz, co-founder of the company, would reduce processing times from one year to one hour! This project was also funded by Europe under the Horizon 2020 call for projects. It also seems to be of interest to the military. The
DGA
is one of Quandela's partners.
Pasqal
, on the other hand, is a very young project, created at the end of 2018. The company's objective is to build quantum information processors based on laser cooled atoms arrays...
Prevision.io
is a "deeptech", i.e. a company that would offer innovative solutions, known as "distruptive" solutions. Prevision.io works in the field of machine learning and offers an artificial intelligence engine that automatically creates and deploys predictive algorithms. The platform accelerates data science projects. Importantly, "
the predictions produced by the models are interpretable and explained from the interface itself
", an essential argument while the interpretability and auditability of algorithms will be at the heart of discussions in the coming years.
The feedback from all the participants to this meetup is positive. They all salute the efforts made by Quantonation to create and bring the beginnings of this second quantum revolution to the attention of as many people as possible. We are therefore looking forward to the announcement of the fourth meeting, probably after the summer holidays.